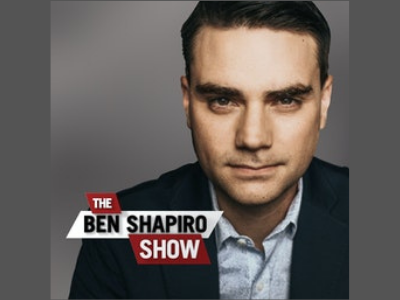 The Ben Shapiro Show connects listeners with the news they need to know in the fastest-moving daily program in America. A voice for conservative millennials, Shapiro covers America's most powerful political personalities, brutally breaks down the culture, and never gives an inch!
Show Links:
---
Shapiro is the author of numerous nonfiction books, including The New York Times #1 Bestseller The Right Side of History: How Reason and Moral Courage Made the West Great (HarperCollins, 2019), New York Times Bestsellers Bullies: How the Left's Culture of Fear and Intimidation Silences America (Simon & Schuster, 2013), and How to Destroy America in Three Easy Steps (HarperCollins, 2020), and national bestsellers Brainwashed: How Universities Indoctrinate America's Youth (WND Books, May 2004), Porn Generation: How Social Liberalism Is Corrupting Our Future (Regnery, June 2005), Project President: Bad Hair and Botox on the Road to the White House (Thomas Nelson, 2007), Primetime Propaganda: The True Story of How the Left Took Over Your TV (HarperCollins, 2012), and The People vs. Barack Obama: The Criminal Case Against the Obama Administration (Simon & Schuster, 2014).
Shapiro was hired by Creators Syndicate at age 17 to become the youngest nationally syndicated columnist in the U.S. He earned a BA in Political Science from UCLA in 2004 and graduated from Harvard Law School in 2007. After working as an attorney for Goodwin Procter LLP, Shapiro began his own legal consulting firm, Benjamin Shapiro Legal Consulting (Los Angeles).