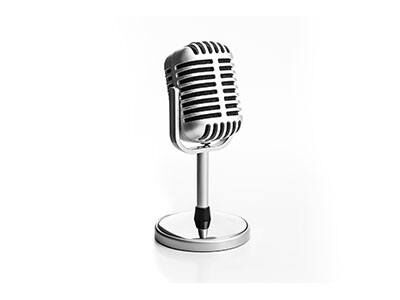 Take 2 with Larry Morrow
From Dion to Brian Sipe, Larry interviews the legends of entertainment, sports and today's thought & societal influencers. Larry's unique interview style provides us with a deeper, more personal perspective on these leaders and often covers aspects of their careers that you've never heard before.
---
Larry Morrow
"The Voice of Cleveland"
Larry Morrow is one of the best known and respected personalities in Ohio. "Mr. Cleveland," proclaimed by Mayor Voinovich in 1979, is also known as "the Presidents Man." When Presidents Carter, Reagan, Bush and Clinton came to Cleveland, Larry was asked to introduce them.

Larry spent three years on active duty in the USMC and was later called upon by our government to partake on a special mission for the Pentagon traveling to Vietnam in 1969 at the height of the war. He also brought interviews of Cleveland area boy's home for the Holidays. Larry was then honored by the Assistant Commandant of the Marine Corps during the Marine Corps Ball in Cleveland the following year for his time in Vietnam. In November 2017, Larry was asked to give the Keynote address at Cleveland's City Hall Rotunda for the celebration of Veterans Day and the Marine Corps birthday

During Cleveland's turn-a-round in 1979, Larry played an important role from his 3WE-1100, #1 rated prestigious morning show. Larry made sure that everyone he spoke to, both locally and nationally, knew Cleveland was the greatest city in America to live, work, play and raise a family.
In 1996, Cleveland celebrated its bicentennial; at that time, the largest crowd (450,000) ever assembled in Cleveland. Larry was asked to MC and introduce The Cleveland Orchestra, President Clinton and actress Debra Winger.

In 1982, Larry was inducted into Radio and Television Broadcasters Hall of Fame, in1985 the Cleveland Broadcasters Hall of Fame and the first Ohio broadcaster nominated to the prestigious Radio Hall of Fame in Chicago. When the new Cleveland Browns Stadium opened, Larry was asked to MC and help cut the ribbon. Larry also appeared on the 100th anniversary episode of the Drew Carey national television show. In late 2017, Larry was featured at Cleveland Cavalier half-time at Quicken Loan Arena for his writing of the Cavaliers Fight song, "C'mon Cavs." Larry's "C'mon Cavs, Gotta' Make it happen" is the theme for 2020 50th Anniversary for the year. Larry was named American Cancer Society's "Man of the Year." The celebration was held August 2018.
Larry has been married to Rosary Morrow for 47 years. Their three children, Diana, Donna and Cynthia all live in Chagrin Falls, Ohio.
Larry's many years in broadcasting have earned him numerous awards and honors, but the five he is most proud of are:
1) The National Radio Hall of Fame Awards
2) The National Abe Lincoln Award, which goes to the most distinguished in his industry
3) The Cleveland Community Service Award given by his peers, which is the highest award radio can give
4) Being named Cleveland's most Popular Radio and Television Personality
5) And working with over 150 charities in Cleveland.